Hoseini Abdullahi: I will invariably follow UT professors' Lead in my Scientific Iife
UT PR: Admitting international students is one of the most effective ways of scientific and cultural exchanges among countries. Students with different customs, traditions, cultures and social backgrounds from other countries can act as ambassador of peace, friendship and relationship between nations apart from getting educated and improving their scientific grounds.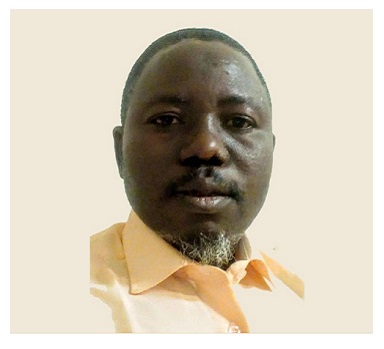 University of Tehran has always given prominence to presence and activities of international students through emphasis on development of international relations and scientific diplomacy.
In the same spirit, Hedieh Mirzaei, a specialist at Public Relations of UT, has investigated concerns of international students and their educational opportunities and challenges at UT in a series of interviews.
Hoseini Abdullahi, the superior international student of UT, is from Nigeria. He received his first academic certificate in 2005 at Bayero University in city of Kano in the field of applied biology.
In 2010, he graduated in M.A. program for the field of botany from the same university and he is currently studying at UT in Ph.D. program for the field of botany. This superior international student describes the academic atmosphere of UT as a place where learning overcomes the nature of a person, i.e., a place in which people are able to encounter with the future challenges and, through education, they can be successful in all aspects of life. 
As for why he chose UT, HoseiniAbdullahi said, "In 2016, I decided to continue studying and my university administration asked me to choose a university with a high rank and a proper academic and scientific atmosphere. I was personally interested in studying in Asian countries specially the Islamic Republic of Iran.
As I was investigating my options with a friend of mine, he recommended me to select UT due to its outstanding national and international position. As I went through the UT website, I found more and more records of scientific superiority, vigorous researches and credible professors. Another criterion set by our university to fund our education was to select a university whose rank is not over ten in its own country. Fortunately, UT holds the first rank in Iran and this requirement was easily met."
He then continued, "That was how I managed to apply to UT through a friend who was a student of Tehran University of Medical Sciences back then. I was initially admitted to Ph.D. program for agricultural biotechnology at UT College of Agriculture and Natural Resources. However, I changed my field to a closer one to my own field of study, i.e., Ph.D. program for botany at UT School of Biology. I was of course introduced to the International Center for Teaching Persian to Non-Persian Speakers to learn Farsi as I was admitted to UT in 2018." 
Hoseini Abdullahi then elaborated on special privilege of studying at UT such as adept professors of UT who are very efficient in teaching and when it comes to research, they are able to create a competitive atmosphere among students.
He also considers learning Farsi a challenge for international students as every student has to spend a considerable time to learn Farsi specially Ph.D. students who are already employed and have a limited time to complete their program. 
As for interaction and cooperation with other students, he pointed out that he has a brotherly relationship with other international students who are mostly from Iraq or Afghanistan. He has also made good friends among Iranian students who have kept in touch with him up until now. According to this student, team-work at UT is amazing and it causes everyone to learn and help each other and, as a result, the quality of work increases.
As someone who has been teaching in Nigeria, he commends teaching methods, appropriate atmosphere for learning and character of professors of UT.
This student believes that professors of UT inspire their students with their kind devotion, humbleness, modesty and most of all with their expertise. In regard to the Iranian civilization, art and culture, Hoseini Abdullahi says that there are wonderful cultural, artistic and ancient places to visit in Iran. To him, Iranian architecture is the most interesting part of the heritage. 
In the end, this international student of UT concluded his remarks and asserted, "I thank mighty Lord for making my dream true and giving me the chance to study in Iran. I also thank the Nigerean government for supporting me. Although the two countries are geographically far from each other, their minds and souls are close. I sincerely hope to get well-educated and present the quality of education at UT to the students in Nigeria. I also thank all my professors at UT botany group for their constant support. I specially would like to thank Dr. Hosein Aghakhani who tries his best to provide a special research plan for my project despite all financial restrictions. Thank you very much for giving me the opportunity to express my gratitude to the Islamic Republic of Iran and University of Tehran."