Yan Huwa Lio: Chinese and Iranian women are independent and hardworking
UT PR: Admitting international students is one of the most effective ways of scientific and cultural exchanges among countries. Students with different customs, traditions, cultures and social backgrounds from other countries can act as ambassador of peace, friendship and relationship between nations apart from getting educated and improving their scientific grounds.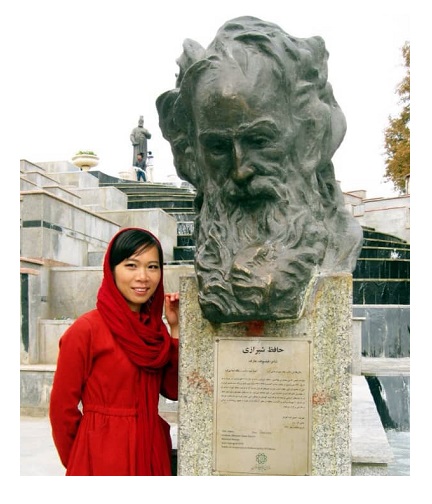 University of Tehran has always given prominence to presence and activities of international students through emphasis on development of international relations and scientific diplomacy.
In the same spirit, Hedieh Mirzaei, a specialist at Public Relations of UT, has investigated concerns of international students and their educational opportunities and challenges at UT in a series of interviews.
Yan Huwa Lio, the international student at UT from China, has been living in Iran for four years now and she enjoys living in this country. This student has graduated B.A. program in 2013 and has come to Iran in 2017 to learn Farsi.
She has managed to receive diploma in Farsi language at Dehkhoda Lexicon Institute and International Center for Persian Studies in 2018.
She was admitted at UT Faculty of World Studies in October 2019 and she is currently studying at M.A. program in the field of Iran Studies. 
As she had worked for three years in Iran, this international student of UT had planned to learn more about Iran and its culture and then chose UT as the desired place to study. As a result, she applied to UT Faculty of World Studies and she was admitted. Since she had already lived in Iran for a while, this student had managed to gain a good command over Farsi and find numerous Iranian friends. As a result, studying in Iran was easier for her.
Yan Huwa Lio describes UT professors as patient and wonderful instructors. She also suggests that proper dormitories and inexpensive costs are among positive aspects of studying at UT. However, the professors are strict from time to time and the courses get difficult sometimes and she has faced challenges in this regard.
She then elaborated on her interest in her field of study, i.e. Iran Studies, and asserted that she is investigating domains of Iran's policies and economy and the Islamic culture. Initially, she found Islamic discussions interesting and then she developed an interest in the relations between China and Iran. 
In regard to group works and interaction with other students, she explained, "I know a number of international students at UT who are from Germany, Syria and Turkey. My close friends, however, are from Iran. Interaction and cooperation are important factors in studying and working. I am manager of a Chinese company and I know group work and group prudence are essential to obtain success."
As she is interested in International relations and policies, Yan Huwa Lio chose Iran & China relations as the subject of her dissertation. According to this student, relations between Iran and China are special as the two countries have ancient civilizations and their relationship is essential for appearance of China in the Middle East and development of Iran.
This international student talks about Iranian culture and asserts that she does not have any problems with Farsi and Islamic culture and prior to visiting Iran, she had studied grounds of Islamic and Iranian culture. She considers Iran as her second home and enjoys living in this country. She loves Persian poetry specially Saadi's poems and since she herself writes poetry, she enjoys Persian poems and loves Iranian culture.
As for improvement of educational conditions at UT, she requests the UT authorities to add English version to online classes. She then introduced her professors and expressed her appreciation for their kind efforts. Her professors are Dr. Samiei, Dr. Mohseni, Dr. Sabbar, Dr. Ahmadian and Dr. Moshirzadeh and she suggests that they are all wonderful, kind, patient and well-educated instructors. In the end, Yan Huwa Lio said, "UT is among the top universities all around the world and I am proud to be studying here at UT and I truthfully love Iran and UT."