In a Credible International Magazine:
Reflections on Manufacturing a Covid-19 Diagnostic Machine by a UT Faculty Member
UT PR: In an interview with Dr. Mohammad Abdulahad, the IEEE Spectrum magazine elaborated on specifications of ROS mucus quick diagnosis machine which is used for Covid-19 diagnosis.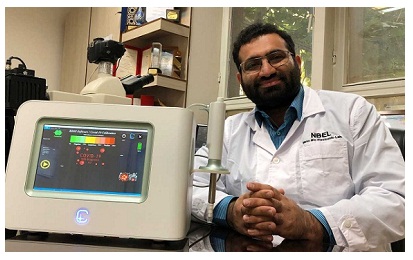 Sponsored by Iran Nanotechnology Innovation Council (INIC), the ROS mucus quick diagnosis machine was manufactured in a teamwork under the supervision of Dr. Mohammad Abdulahad at UT School of Electrical and Computer Engineering, nanobioelectronics section. As a result of cooperation with Tehran University of Medical Sciences, Shahid Beheshti University, Motamed Cancer Institute and the Corona Scientific Committee of Ministry of Health and Medical Education, this research work came to conclusion after four months of work and received the certificate for production from the Medical Equipment Department. According to the inventors, this machine can also be used to diagnose pulmonary diseases such as asthma and tuberculosis and this feature is a useful one during the covid-19 pandemic. This machine diagnoses the disease via alterations in the patient's mucus. It is worthy to mention that creation of electric microbubbles for annihilation of cancer cells through chemotherapy is innovation of a new method for the first time in the world to diagnose cancer and examine possibility of metastasis in biopsy samples of patients, diagnose metastasis cancer cells using electric nanobiosensors and manufacture nanoelectric chips to diagnose circulating tumor cells in blood called NELMEC. Acquiring the Mustafa Prize, the supreme badge of science and technology, in 2019 is another achievement of this UT researcher.