UT International Student from Afghanistan defends her thesis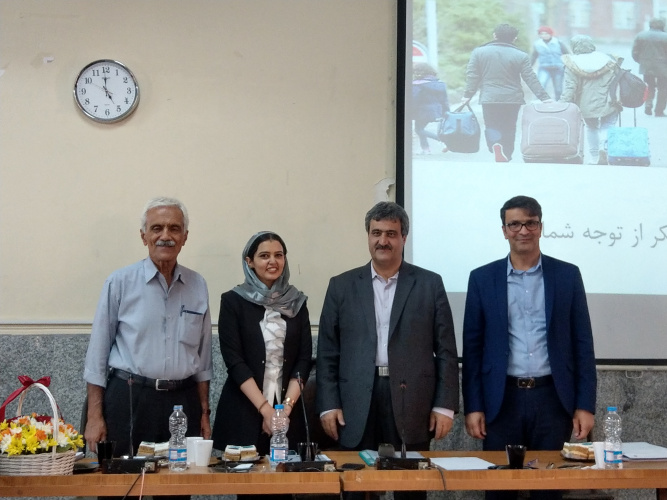 On 23 September, 2019, Ms. Azizeh Hashemi, a M.A student in the field of Demography, Faculty of Social Sciences from Afghanistan defended her thesis successfully with the score of 19:25 out of 20.
Title of  thesis :The effect of insecurity feeling on tendency to emigrate from Afghanistan .
Supervisor :Prof. Mohammad Jalal Abbasi,
Advisor: Prof. Rasoul Sadeghi
Master Reviewer: Prof. Mohammad Mirzaei.
Abstract:
Migration from Afghanistan has been one of the most important and largest emigrational flows in the contemporary age. About a third of the Afghan population has emigrated from Afghanistan and still a significant part of the population wants to go. One of the reasons and effective foundations for migration flow from Afghanistan is the insecurity and in particular the insecurity feeling.
This thesis is an attempt to study the relationship of the insecurity feeling with the tendency to emigration. The research methodology in this study is the secondary analysis of the survey on people in Afghanistan in 2017.  The number of sample in the study includes 10012 people aged 18 and over in 24 provinces in Afghanistan.  Based on the results of the research, people who have a high tendency to migrate are men, young people, those with a high school diploma, singles, those of the Hezare ethnic group and those most exposed to the media (T.V).
Even the people who belonged to the middle and lower classes had a greater tendency to emigrate from the country.  People who at least one of their family members were aboard, had a greater tendency to emigrate from the country. Moreover, even positional-structural variables were effective on the migration tendency.  Individuals who had a pessimistic and negative assessment of the socio-economic position of the household, living conditions and state performance had a greater tendency to emigrate from the country. Even people who believed that there would not be a peace accord between Taliban and the State of Afghanistan, people who considered ISIS a threat to their own region and the people who considered the route and the tendency of the country to be wrong, they had more tendencies to emigrate from Afghanistan.
Finally, the results showed that the insecurity feeling has a significant relationship with the statistically tendency to migration from the country. People who have a great insecurity feeling have a greater tendency to emigrate from the country.  The results of logistic regression showed that the significant insecurity feeling, despite the control of effects of other population, the positional-structural variables still remained in the model. Therefore, the insecurity feeling is an important and effective variable on the trend towards emigration from Afghanistan.
 Key Words: International Migration, Security, Insecurity Feeling, Taliban, Afghanistan