French Assistant Professor visits UT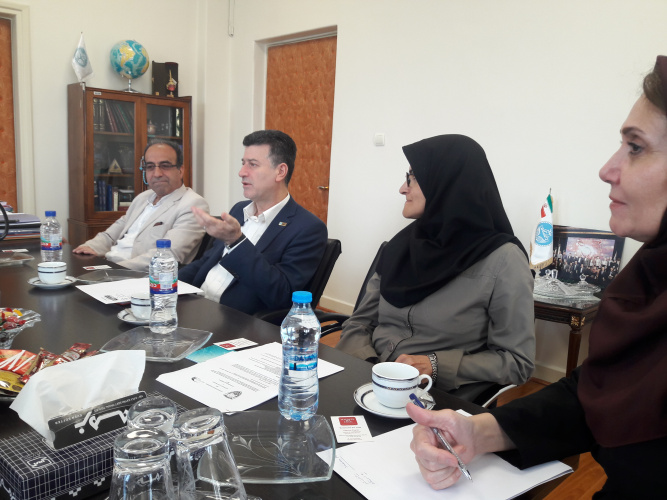 On 26 June, 2018, Etienne Peyrt ,  a French Assistant Professor from Sciences Po Lille , France visited UT and met Prof. Mohammad Bagher Ghahramani, Vice President for International Affairs. During this meeting which was held in the presence of Prof. Behruz Gatmiri , faculty member of College of Engineering and UT representative at AUF , Prof. Nahid Shahverdiani, faculty member of the Department of French Language and Literature, Faculty of Foreign Languages and Literature, Prof. Homeir Moshirzadeh, Advisor to the Dean of the Faculty of Law and Political Sciences, Prof. Goodarz Rashtiani, faculty member of the Department of History , Faculty of Literature and Humanities , Ms. Davanlou, Head of Department of Scientific and International Cooperation, and Abdolmajid Eskandari, Director General , Office of International Relations, both sides exchanged ideas on the ways of promoting bilateral academic ties between the two universities.
Referring to mutual cooperation between the Faculty of Law and Political Sciences with other French universities, Prof. Moshirzadeh in this meeting expressed the readiness of her affiliated faculty to establish and expand ties with Sciences Po Lille as well.
Pointing out the plan of the Faculty of Literature and Humanities to present a field of study on History of Europe, Prof. Rashtiani expressed his hope for the support of Sciences Po Lille to the mentioned course.
In response to the proposals of cooperation, Assistant Prof. , Etienne Peyrt also welcomed the ideas for establishing collaboration and added that in next few months, a delegation from Sciences Po Lille will come to Iran and it will be possible to sign a MoU and start such cooperation in practice.