The Cultural Week of Cuba at University of Tehran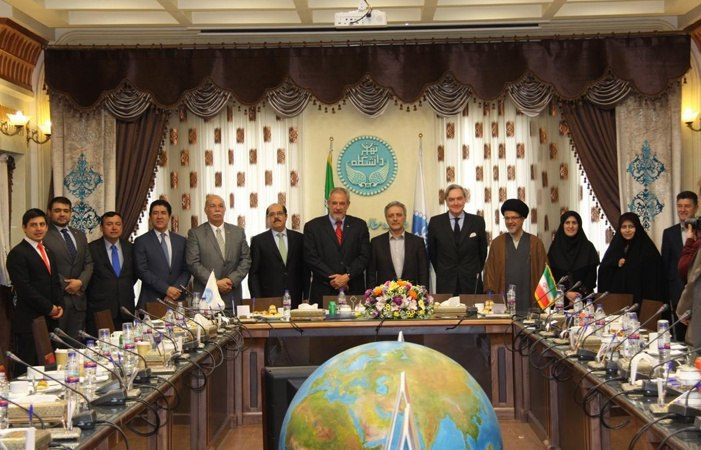 The opening ceremony of  the Cultural Week of Cuba was held in the presence of Prof. Nili Ahmadabadi, the President of University of Tehran and ambassadors of Spain and Latin American countries on the 4th of March, 2018.  
In this event, Prof. Nili Ahmadabadi presented a speech. Part of his speech reads, "For our generation, Cuba is beyond a regular country. Fidel Castro, as the symbol of a nation against dictatorship is well known to Iranian people. After Islamic Revolution, the tie between Iran and Cuba has developed formally and this relation has continued in different areas including academic cooperation. This event is a good opportunity to know the cultures, traditions, habits and abilities of different countries and a good ground to know each other. Science knows no border and science is one of the best diplomacies".
The ambassador of Cuba also spoke briefly about history and politics of Cuba and added that combating against global arrogance is a part of the policies of Cuba.  He also thanked Iran for its support in UN in fighting against the pressures and sanctions imposed on the Cuban state and nation.
Welcoming the guests, Dr. Maryam Haghroosta, Head of the Department of Latin American Studies , Faculty of World Studies also said, " Cuba is the cross point of indigenous America , European, African , North American and even Asian civilizations and this rich culture under the influence of all cultures and civilizations has developed in Cuba" She further added," today the graduates of University of Havana are the main faculty  members of the Department of Latin American Studies and Spanish Language and Literature Department at UT".
The ambassador of Ecuador, Bolivia , Nicaragua, Venezuela, Argentina,  Spain ,  Mexico , Chile and Urguay were present in this event.