A Joint meeting between Russian delegation from Gorchakov Foundation and Department of Regional Studies, Faculty of Political Sciences, UT
A Joint meeting between Russian delegation from Gorchakov Foundation and Department of Regional Studies, Faculty of Political Sciences, UT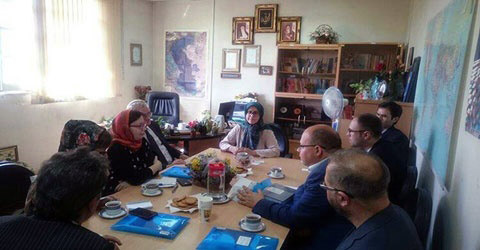 The Department of Regional Studies , Faculty of Political Sciences, University of Tehran hosted "Dr Ivan Ksenofontov ", Director of Public Relations at Alexander Gorchakov Public Diplomacy Fund of Russia and the accompanying delegation.  
In this meeting, subjects including relations between Iran and Russia, student and professor exchange, and cultural as well as scientific relations were discussed, and the two sides propounded their views, suggestions, and expectations.
One important part of this meeting was proposal of "signing  MoU" by the Russian delegation between this foundation and University of Tehran. Prof. Koulaei (Director of the Department of Regional Studies  and Director of Research Department of Central Eurasia Studies) welcomed this proposal and considered it as important; given the policy of University of Tehran in developing nternational inter-university relations.