University of Tehran delegation visited University of Zurich, Switzerland
University of Tehran delegation visited University of Zurich, Switzerland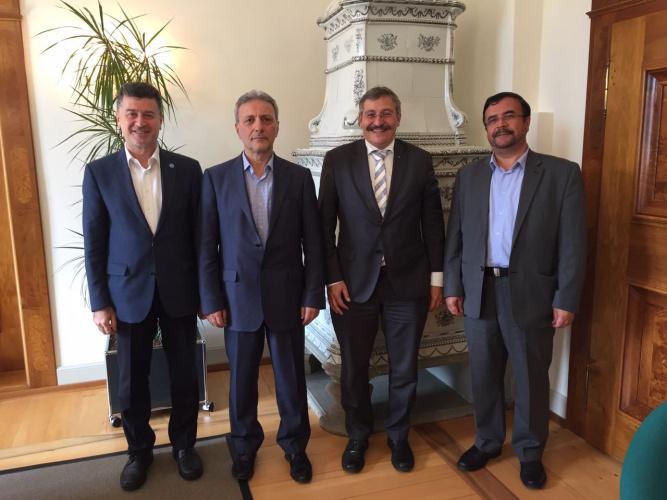 On 12 September, 2017, a delegation from the University of Tehran headed by Prof. Mahmoud Nili Ahmadabadi, the President and Prof. Mohammad Bagher Ghahramani, Vice President for International Affairs and Prof. Ghader Ghorbani Asl,the Scientific Representative of Iran in Europe met Prof. Michael Hengartner, the President of University of Zurich, and Marcel Schneider from International Relations Office on September 12 to discuss further collaboration.
The two sides reaffirmed the importance of extending their cooperation in all the areas of joint research and exchange of faculty and students. UZH President announced the start of a new program that will be announced later in the fall to support collaboration with Iran and with UT. Moreover, President Nili Ahmadabadi elaborated the recent support program extended to students and faculty exchanges at UT with an emphasis on close partners such as UZH.
The two universities officials agreed to make measures that would help scientific interest and reduce hurdles as much as possible and make frameworks for smoother and faster collaborations that would include the following.
-To set up a working group at each respective university to oversee concurrent cooperation and make an action plan for future activities.
-To attempt to allocate housing from each university for exchanges of both sides.
-To co-fund research for the next academic year and to publicly call for proposals.
-To further discuss joint teaching and programs for non-Farsi(Persian) majors at University of Tehran.
During the meeting, cooperation with the 13 universities that are members of the Summit of the Top Universities in Iran and also with Tehran University of Medical Sciences, were discussed and encouraged as well.