A high ranking delegation of HRK German Rectors' Conference visited University of Tehran
A high ranking delegation of HRK German Rectors' Conference visited University of Tehran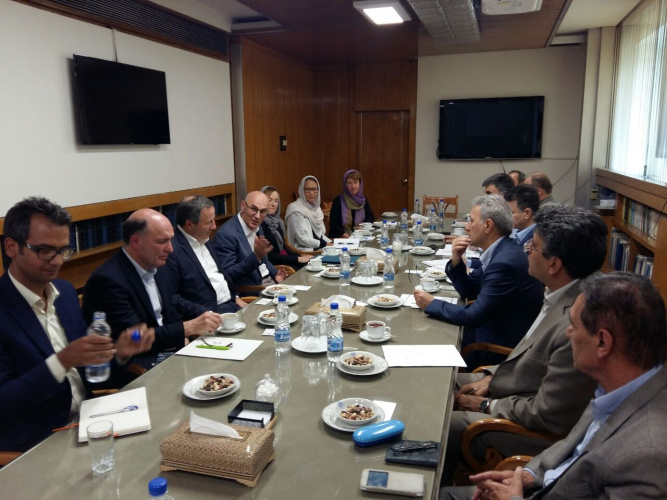 Prof. Dr. Karim Khakzar , Vice President of German Rector's Conference and the accompanying delegation met with Prof. Mahmoud Nili Ahmadabadi, the President of University of Tehran on 2 July, 2017.
In this meeting, Prof. Khakzar was accompanied by a number of high officials and academicians including:
Prof. Dr. Godehard Ruppert , President of University of Bamberg, 2.  Prof. Dr. Jens Hermsdor, President of Hochshule Worms, University of Applied Sciences, 3.  Ms. Jula Volz, Direccor , International Office ,University of  Giessen, 4.  Dr. Birgit Barden Laufer , Director, International Office, Leibniz Universitat Hannover, 5. Dr. Thomas Bohm, Head of  Section , Africa and Middle East , German Rector's Conference 
The Iranian delegation included: Prof. M. B. Ghahramani, Vice President for International Affairs, Prof. Maref, Head of Human and Social Science Commission, Prof. Takhshid, Dean , Faculty of Law and Political Sciences, and Abdolmajid Eskandari, Director General, Office of Int. Relations.
In this meeting, both sides explained about their universities briefly and expressed their readiness to promote academic ties.  President Nili Ahmadabadi , outlined the strategic objectives  of UT and the future plans of UT to meet this end. How internationalization objective should be developed and implemented, sustainable internationalization structure and process , and international partnership experiences were among the other issues which were discussed in the meeting. Professor Dr. Karim Khakzar , Vice President of German Rector's Conference(HRK) and President of Hochschule Fulda- University of Applied Sciences also explained about the scope of activities of HRK as the voluntary association of the state and state-recognized universities in Germany with 268 member institutions at which more than 96 per cent of all students in Germany are enrolled. The participants of the meeting also exchanged ideas on the ways to promote human science and the significance of interdisciplinary fields of study. Referring to a long-standing academic cooperation between University of Tehran and German universities, both sides expressed their sincerer hopes for practicality of the mutually academic programs.