President of University of Tehran visited Switzerland
President of University of Tehran visited Switzerland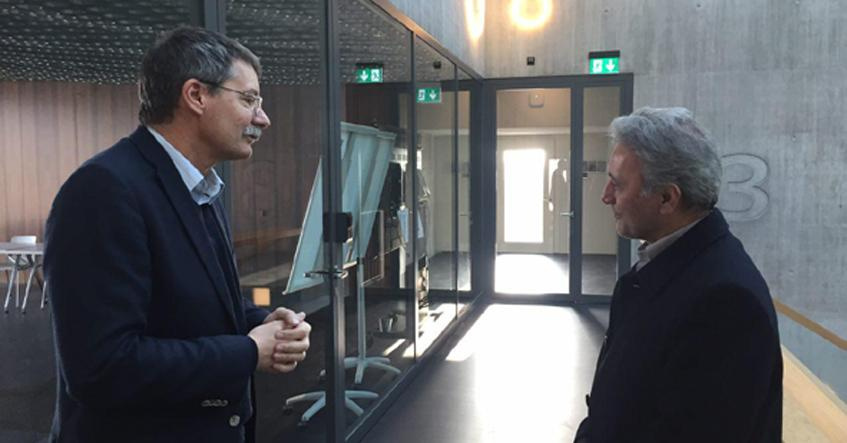 Prof. Mahmoud Nili Ahmadabadi, President of University of Tehran accompanied by Prof. Mohammad Bagher Ghahramani, Vice President for International Affairs paid a visit to Switzerland. According to their visiting program on Wednesday 14 December 2016, they had an initial meeting with Prof. Dr. Gian-Luca Bona, the Director of EMPA.
Then they hold a meeting with the Prof. Dr. Michael O. Hengartner, President of University of Zurich (UZH) in the presence of the following officials and faculty members:
•           Prof. Dr. Michael Schaepman, Dean of the Faculty of Science
•           Prof. Dr. Ulrich Rudolph, Professor of Islamic Studies
•           Dr. Yasmine Inauen, Director International Relations Office
•           Claudia Rüegger, Project Manager, International Relations
The main area of discussion was on exchange of students and faculty members, facilitating sabbatical leave programs, supporting the students of each side to use the facilities of the host and home universities, working on mutual areas of interest such as water, environment, interdisciplinary programs, Persian and Philosophy studies, German studies and language. It was also decided that in January a delegation from University of Zurich to visit UT.
In the afternoon, they had a visit to EMPA and Dr. Peter Richner's laboratory. Furthermore, they also visited Structural Engineering laboratory with some test demonstrations, projects related to iron based SMA, etc. The delegation also attended a class presented by Prof. Shahverdi a former graduate of University of Tehran and a Post-Doc. Scholar at EMPA.
The main areas of discussion during the visit to EMPA included familiarity with new lab facilities, new materials , civil and mechanical engineering advancements , possibility of spending research stay by UT students and establishing mutual research projects.