Professor Zabta Khan Shinwari, the Secretary General of Pakistan Academy of Sciences visited University of Tehran
Professor Zabta Khan Shinwari, the Secretary General of Pakistan Academy of Sciences visited University of Tehran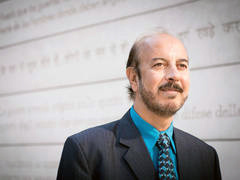 Professor Zabta Khan Shinwari, the Secretary General of Pakistan Academy of Sciences , the winner of the 2015 UNESCO Avicenna Prize for Ethics in Science and the Professor of Biotechnology and Bioethicist paid a visit to the Institute of Biochemistry an Biophysics, (IBB) in the University of Tehran. After visiting different parts of IBB, Prof. Shinwari met with Prof. Moosavi Movahedi , the Dean of IBB and other faculty members on 29 May, 2016.
Addressing professors and students of IBB, Prof. Shinwari admired the set of research activities in IBB and talked about many common areas of interest between the two Muslim and neighbor countries of Iran and Pakistan.
Prof. Shinwari who is also the Head of Department of Biotechnology at Quaid-i-Azam University, Islamabad, Pakistan spoke about the achievements and abilities of Iran in production of biotechnological products and further added that due the high speed of production of science in the world, it is necessary for the universities and research centers to device new systems of teachings for education.