Rector of Dresden University of Technology met with President of University of Tehran
Rector of Dresden University of Technology met with President of University of Tehran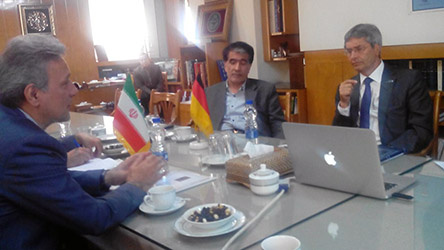 Prof. Dr. Hans Muller-Steinhagen, Rector of Dresden University of Technology met with President Nili Ahmadabadi on 21st of May. During the meeting, various areas of collaboration were discussed and both sides agreed to work on mutual areas of interest. 
Referring to the history of Dresden University of Technology after unification, structural changes, its high standing position among German universities, the good reputation of faculty and students of his university and his experiences with graduates of Iranian universities, the Rector of Dresden University of Technology stated that his university will be pleased to start practical academic cooperation with University of Tehran in various fields.
Prof. Nili Ahmadabadi also stated the readiness of University of Tehran to cooperate with Dresden University of Technology in various fields in particular on dual degrees and joint researches.