An Exhibition on Cold War at University of Tehran
An Exhibition on Cold War at University of Tehran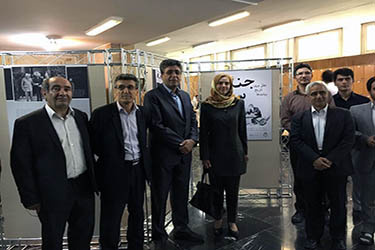 Cultural and Press Affairs Section of German Embassy in Tehran in association with the Department of History, Faculty of Literature and Humanities, University of Tehran holds an exhibition on Cold War from 8-22 May at the venue of Central Library and Documentation Center, University of Tehran.
The opening ceremony of the exhibition was held on 8 May, in the presence of Ms. Marian Schuegraf, Deputy Ambassador, Mr. Abdolmajid Eskandari, Director General, Office of International Relations , Professor Sefatgol, Professor Ahmadi and Prof. Vosoughi from Department of History and also a group of students.
In this ceremony, Ms. Schuegraf , Mr. Eskandari , Prof. Sefatgol and Prof. Ahmadi talked about the significance of familiarity of students with the impacts of cold war and the necessity of cooperation of nations to secure a long standing peace in the world.