A Guest Lecture from the Netherlands in the Faculty of Economics, University of Tehran
A Guest Lecture from the Netherlands in the Faculty of Economics, University of Tehran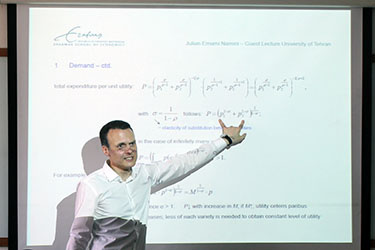 On Tuesday May 3, 2016, the Faculty of Economics hosted a guest lecture by Dr. Julian Emami Namini from Erasmus School of Economics, Erasmus University Rotterdam, the Netherlands. In this mini-course, interested Ph.D. and Masters level student learned about Intra–industry trade with firm heterogeneity through a detailed study of a paper by Melitz (2003).
It is worth noting that in 2015 the Erasmus University ranked 4th in Europe in economics, according to the Shanghai ranking.
Reference:
Melitz, M. J. (2003): The impact of trade on intra–industry reallocations and aggregate industry productivity. Econometrica 71, 1695–1725.