President of Korea Research Institute of Bioscience and Biotechnology (KRIBB) paid a visit to the University of Tehran
President of Korea Research Institute of Bioscience and Biotechnology (KRIBB) paid a visit to the University of Tehran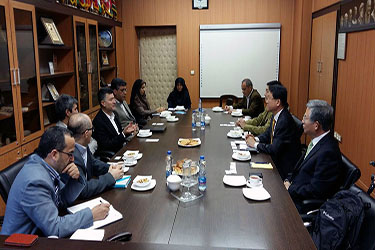 A high ranking delegation from Korea Research Institute of Bioscience and Biotechnology (KRIBB) led by Prof. Kyu-Tae Chang , the President of KRIBB and Prof. Hee-Moch OH, Principal Research Scientist and also Mr. Donghwi Kim from Policy and Strategy Department met with Prof. Mohammad Bagher Ghahramani, the Vice President for International Affairs.
During the meeting, both sides agreed upon promoting the exchange of scholars, students and working on students' research stay, joint research projects in various areas including bio-engineering, bio-science and bio-resources.
In this meeting, the MoU signed by Prof. Mahamoud Nili Ahmadabadi, the President of University of Tehran and Prof. Kyu-Tae Chang, the President of KRIBB was exchanged.
It is worth mentioning that after this meeting, the delegation paid a visit to College of Engineering and College of Sciences in University of Tehran.