International Vice President of University of Tehran Kish International Campus met with Regional Manager of Switzerland European University Business School
International Vice President of University of Tehran Kish International Campus met with Regional Manager of Switzerland European University Business School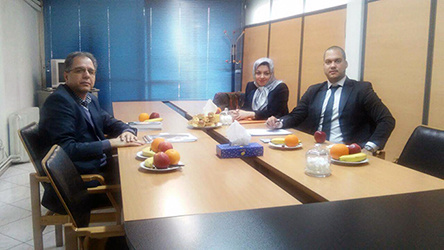 Dr. Mohamad Reza Saied Abadi, International Vice President of University of Tehran Kish International Campus met Frederick Gounod, Regional Manager of Switzerland EU Business School on February 27, 2016 in the office of Kish Campus located in Tehran.
Dr. Saied Abadi not only did point out high educational capacity of the Campus for international cooperation with reputable universities all over the world, but also put special emphasis on Kish campus inclination towards cooperation in different fields.
In this meeting, Frederick Gounod cited that numerous management-related fields as well as MBA with different divisions are the core focus of European University and particularly in its cooperation with other institutes and universities in the world.
He also expressed a keen interest in cooperating with University of Tehran Kish International Campus. Switzerland EU Business School is among the 20 premier institutes in Europe region and offers various majors and divisions of management and MBA in its campuses in Geneva, Barcelona, Munich, and Brussels. Along this meeting two sides came to an agreement to establish joint international courses, exchange students, offer short-term programs, and attract interested students in the region. Both sides agreed on signing MOU within a short time.