The Taiwanese High Ranking Delegation led by Deputy Minister of Economic Affairs Paid a Visit to the University of Tehran
The Taiwanese High Ranking Delegation led by Deputy Minister of Economic Affairs Paid a Visit to the University of Tehran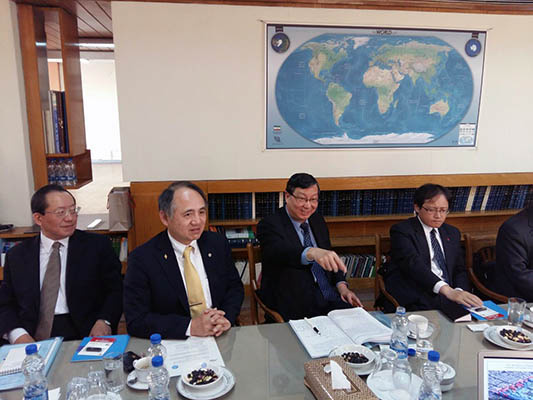 A high ranking delegation led by Mr. Shih Chao Cho , Deputy Minister of Ministry of Economic Affairs , Taiwan met with Prof. Nili Ahmadabadi, the President of University of Tehran on the 6 th March, 2016. In this meeting which was held in the presence of Mr. Sheng H. Wei, Chairman of Taiwan-Iran Business Association ( TIBA) and Prof. Ghahrmani, Vice President for Int.Affairs, Prof. Sadigh, Vice President for Planning and Head of Science and Technology Park and also Prof. Mohaghar Vice President and Head of Organizaton for Development and Investment and a number of high ranking Taiwan managers, both sides exchanged ideas on ways to promote bilateral relations.
Referring to his recent visit to Tawian, Prof. Nili Ahmadabadi expressed the readiness of University of Tehran to expand cooperation in particular on science and technology park with universiteis and science and technology parks in Taiwan. In this meeting Prof. Nili Ahmadabdi presented a report on the redevelopment plan of the University of Tehran and explained the will of the government to focus on knowledge-based companies , internationalization of universities, and entrepreneurship as the future targets. Adding to the viewpoints of the President, Prof. Sadigh , also emphasized that University of Tehran enjoys a very talented and capable human forces and explaining on the advantages of the establishment of knowledge-based companies in the Science and Technology Park , he asked for exchange of ideas and experiences on commercializing of university products and further collaboration.
The delegation also had a short visting tour to the main campus and visited a lab in the College of Engineering and some companies in the University of Tehran Science and Technology Park.